Electric bike mountain bike A6AH26 36V 250W
HOTEBIKE ELECTRIC MOUNTAIN BIKE is an all-purpose powerful electric bike built with high-quality mainstream components. The bike is powerful, affordable, durable, quiet, clean looking, easy to use and can bring you tons of fun!
1.MOTOR
This type of pedal-assist e-bike features a motor encased in the hub of the rear wheel. They are generally more affordable and lightweight, making it easier to find one within your price range so all you have to do is hop on and go.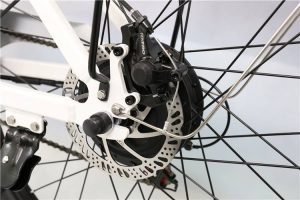 2.HIDDEN BATTERY
HOTEBIKE electric mountain bike features a stylish hidden battery and state-of-the-art waterproof lithium battery. Removable and lockable. Easy to remove and convenient to charge.
3.160 DISC BRAKE
4.Tire
26"*1.95 high-quality tires, with plenty of tread, more slip-resistant and wear-resistant, suitable for all kinds of terrains and roads. Provides enhanced traction, stability and a smoother ride.
5.Adjustable stem
Compared with common, adjustable stem riser is more flexible. Its length is 110mm and max adjustable range is from 30° to -20°. It is easy to adjust the angle of riser by yourself, which is make you more comfortable while cycling.
Our factory provide OEM and ODM,if you are interested in our electric bike, you can log on our official website to know more about details. If you have any query or electric bicycle transportation problem,please feel free to contact us and we will contact you APSAP.www.zhsydz.com
Please Leave us an inquiry.We are looking forward to your arrival.