Full suspension electric mountain bike for sale A5AH26
The absolute pinnacle of e-bike commuting, HOTEBIKE is a carefully refined electric bike engineered to provide distance, speed, comfort and safety.
1.MOTOR
This type of pedal-assist e-bike features a motor encased in the hub of the rear wheel. They are generally more affordable and lightweight, making it easier to find one within your price range so all you have to do is hop on and go.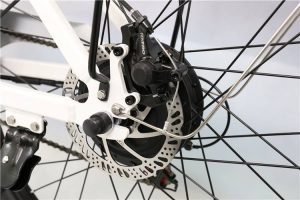 2.HIDDEN BATTERY
HOTEBIKE battery is an unique design, with suitable size at a comparably price. Upgrade to the next level of e-bike performance with the larger battery for more speed and riding range!
3.160 DISC BRAKE
4.Mudguard
When you are riding HOTEBIKE, front and rear fenders can keep the dirt on the street and off your clothes. Also, the rear rack can help you take more goods. It's a nice design.
Our factory provide OEM and ODM,if you are interested in our electric bike, you can log on our official website to know more about details. If you have any query or electric bicycle transportation problem,please feel free to contact us and we will contact you APSAP.www.zhsydz.com
Please Leave us an inquiry.We are looking forward to your arrival.